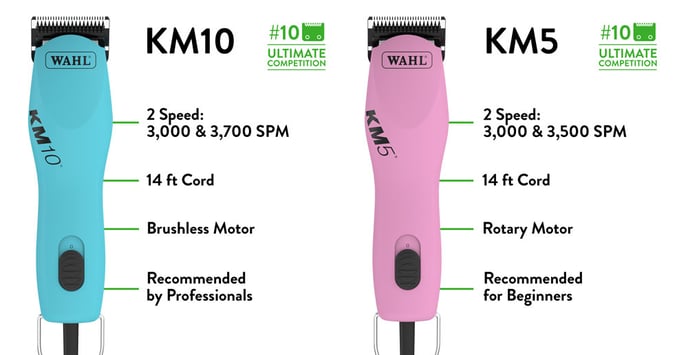 Both the KM5 and KM10 clippers have Constant Speed Control ideal for body clipping and trimming dogs, cats, horses, and livestock. Effortlessly cutting through thick, coarse, and matted coats while remaining quiet enough for even the most noise sensitive animals.
Both are 2-speed corded clippers ergonomically designed to fit comfortably in your hand.
Both include: #10 Ultimate Competition Series Blade & blade oil.
Wahl's KM5 has a Rotary motor while Wahl's KM10 has a Brushless motor engineered to run cooler, quieter, and provide more power and torque.
Wahl's KM5 runs slightly slower than the KM10, with two speeds of 3,000 & 3,500 SPM at 12.9 ounces is ideal for beginning and learning groomers.
Wahl's KM10 is more lightweight than the KM5 at 12.3 ounces and has two speeds of 3,000 & 3,700 SPM combined with a Brushless motor can easily clip through even the toughest of coats.
The KM5 is backed by Wahl's 2 year limited manufacture warranty (valid inside the United States ONLY), while the KM10 is backed with a 5 year limited warranty.
Overall both Wahl Professional Animal's KM5 and KM10 Detachable Blade Clippers are ideal for full-body clipping and trimming on all coat types. Really being the workhorses for their industries, with the KM10 unit being the preferred by professionals and the KM5 being recommended for beginners.