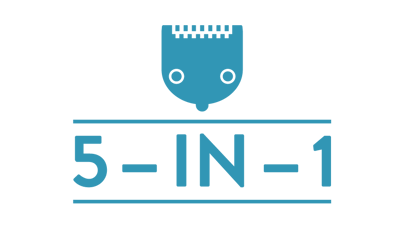 For your Arco, you will need a Wahl 5-in-1 blade.
5-in-1 blades features 5 different blade sizes - #9, #10, #15, #30, and #40 – in one convenient, easy-to-adjust blade. The cutting length sizes, or the amount of hair that will be left behind after using each blade, are approximately 2 mm (5/64"), 1.8 mm (1/16"), 1.5 mm (3/64"), 0.8 mm (1/32"), and 0.6 mm (3/128" – surgical cut) accordingly. For longer cutting lengths, try them out with the Stainless Steel Attachment Guide Combs for 5-in-1 blades. These guide combs will allow you to leave up to 1" of hair.
There are 6 different blade options currently in the 5-in-1 blade line:
Wahl 5-in-1 blade clipper options include the 5 Style Groom, Arco®, Bravura®, Chromado™, Creativa™, Figura®, and Motion™. Look for the blue 5-in-1 icons to identify 5-in-1 blades and their compatible clippers.