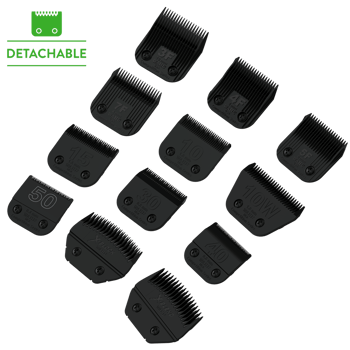 Your Wahl MaxCoat is compatible with all detachable "A5 style" blades on the market but when it comes to quality performance, your Wahl products will perform best with Wahl blades.
Luckily, Wahl offers two detachable blade series: Ultimate Competition (pictured above) and Competition blades. Within each blade series, there are a variety of blade size options that range from a 10 mm cut length (#3F) to 0.4 mm cut (#50), which is a close, surgical cut. The #30 blade can be used with Stainless Steel Attachment Guide Combs for even longer cutting length options that give up to 1" of fur.
Detachable blades can be used for any pet coat – ranging from dogs and cats to horses and livestock.
Wahl's detachable blades, also known as the Competition Series and Ultimate Competition Series blade lines, are compatible with clipper options such as the KM Cordless™, KM10™, KM5™, KM2™, Power Grip®, SS-Pro®, MaxCoat™, and Thick Coat Clipper, as well as other competitor detachable blade clippers. Look for the green Detachable icons to identify detachable blades and their compatible clippers.